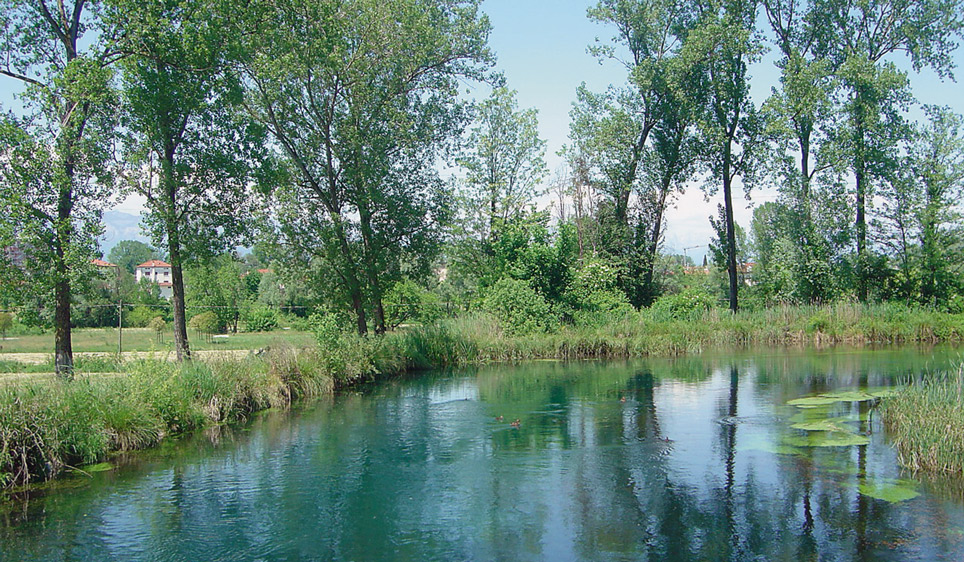 Not at its first "artistic experience" – since it has already guested the first edition of Humus Park, in 2008 – the Seminar Park is a green "island", enclosed between two branches of the river Noncello, ideal place for the rest of birds in their migration.
Traces of fodder production with the water-meadow system are also still visible. The park owns its name to the Diocesan Seminary of Concordia-Pordenone: in 1920, it acquired the "Revedole the Farm", which included a manor house and a few blocks, a large park full of trees, cultivated fields and various water-meadows.
In 2004, it was given in concession by the Diocese to Pordenone municipality, who has made several recovery interventions, has planted many trees and shrubs and created two distinct areas for dogs' warm up and running.
MAP

Visualizzazione ingrandita della mappa
TO GET TO PORDENONE
(one of the two entrances of the Parco del Seminario is close to Pordenone city center) 
By car
Take the A4 motorway in the Trieste-Venice route.
Exit at Portogruaro and take the A28 motorway towards Conegliano (TV).
Exit at Pordenone Centro (city center).
To get to Pordenone pass the Highway 13 connecting Udine with Conegliano (TV).
For more information: www.autostrade.it.
By train
The Pordenone railway station is on the Mestre (VE) – Udine route.
For more information: www.trenitalia.it.
By plane
The closest airports to Pordenone are:
– Venice Marco Polo Airport, which it is about 80 km from Pordenone: www.veniceairport.it.
– Airport F.V.G. – Regional Airport of Trieste, which is about 80 km from Pordenone: www.aeroporto.fvg.it.
Once in Pordenone, the Seminary Park has got two entrances: one in via Martiri Concordiesi and the other in Via Del Seminario.